Thank you for becoming our latest Pitch Package Member within the Family Office Club.  Your Pitch Package membership typically includes your Charter Membership access as well so with this one membership you get all of the benefits of membership plus our hel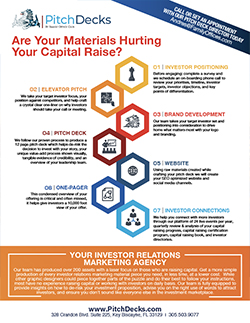 p putting in place your investor relations core set of materials in a way that keeps in mind your target investor set, good written best practices that is concise and unique, and professional enough to assure investors they are in the right place and working with a serious firm.
Your Homework: To kick things off as a new Pitch Package Member we would ask that you complete the following questions which will help us have a good % of what we need to serve you and help you get the most out of this package.  While ordinary marketing agencies and graphic design firms sometimes charge $7,000 just for a website or $10,000 for a presentation deck they often times don't specialize in serving those raising capital and don't have experience themselves actually pitching investor and raising capital.  Also, their services rarely include any help on using the right words, and framing what you do in a valuable fashion. This is important to emphasize at this point because it would be less expensive for us to just knock out your materials fast with no input from you, but then they won't be effective.  This "homework" of completing this survey de-risks your investment in this package and our investment of time in fulfilling it and creating something that will help you get more meetings and more clients.
Pitch Package Blocks: We manage your Pitch Package delivery in blocks, these are like building blocks that provide a foundation for the next block in the process.
The blocks include:
Investor Avatar & 1 Liner Confirmation

: This upfront work can take just 1-2 business days, most clients take 1-3 weeks, and we have a few who are taking a few months to complete this upfront step on where they are trying to go.

Logo

: We attempt to create a logo that is institutional quality, unique, and professional with imagery that is unique and is tied to your message or investor avatar

Pitch Deck

: We help you create a base 12 page pitch deck which build credibility and shows your track record, team, special approach, case studies, and contact details.

One-Pager

: We create 1 page overview of your offering, a teaser to get potential clients to take meetings with you or get on the phone to learn more.

Website + Social Media

: We will put together a 5-7 page website, professional email address as needed, and social media accounts taking into mind search engine optimization, what would attract your investor avatar, etc.

CRM Setup + Animated Whiteboard Video (for premium $7,250 upfront members):

The latest addition to Pitch Package is help setting up your CRM and getting registered for that free resource and also our animated whiteboard video service which in 1-1.5 minutes explains visually how your offering works at a high-level
Ongoing Maintenance + Social Media Update Support: This is us making sure each month or quarter that your social media channels are active, updated, and website represents your current business activities.